Owners' Recipes
Disheveled Chef
Welcome to Sherwood Honda's Brand New Recipe Page! We're writing these recipes for you, cause we know owning a great vehicle works up an appetite! (Also, we really like our customers and want you to eat well.)
SO. YOU SAY YOU'RE NOT A FISH LOVER...
You may think you're not wildly in-love with creatures of the sea. And you may not be…yet. Suffice it to say, this concoction is a real "catch". Once you've tried the flavour packed simplicity these miniature marvels, I'm thinking you may change your mind. A plate of the broiled, beautiful bites will be as welcome at an elegant Oscar Party as at a testosterone charged Fantasy Draft.
SPICED FISH BITES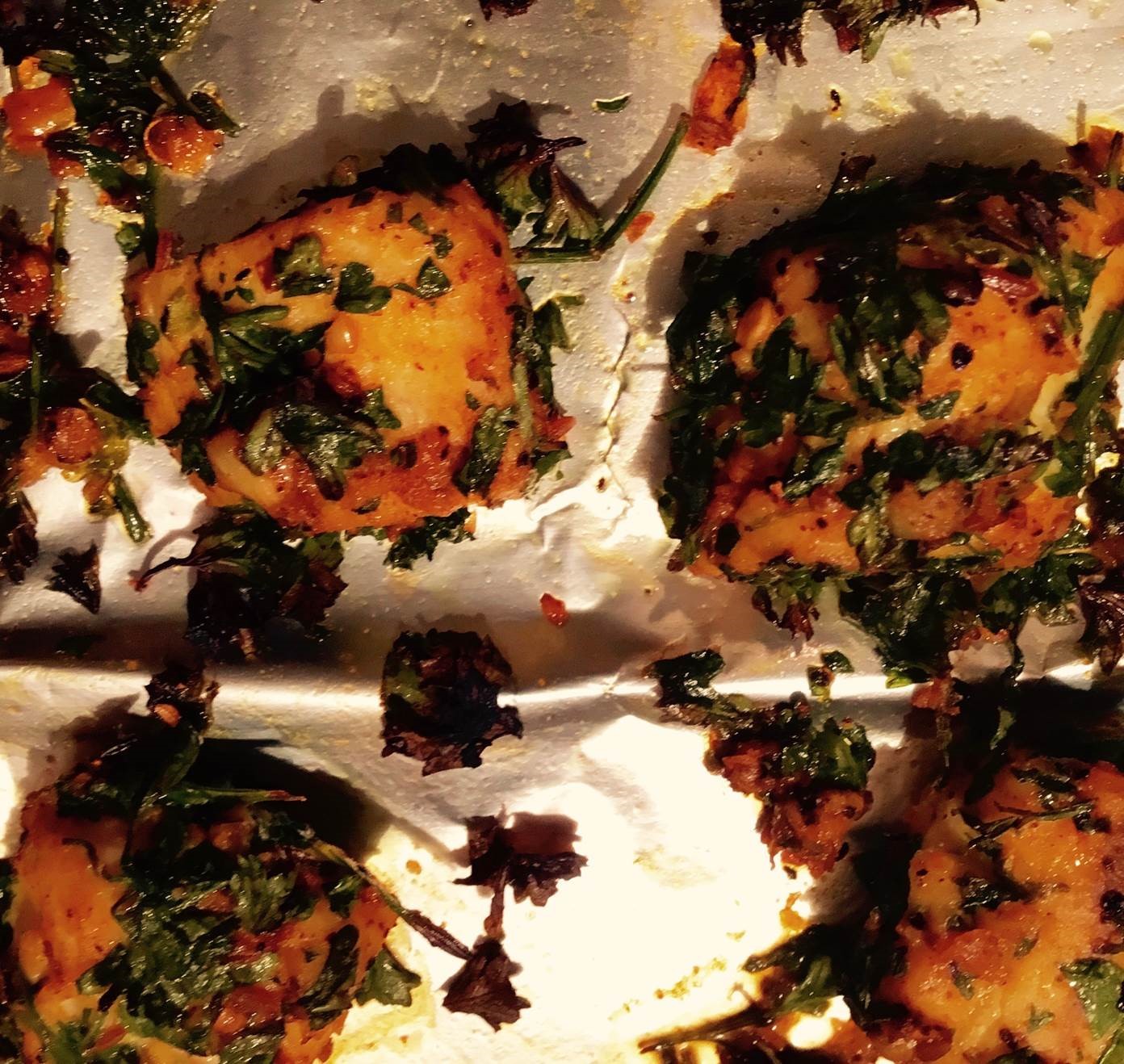 2 lbs. firm white fish, such as cod, mahi mahi, or halibut; cubed(about 1 inch squares)
4 garlic cloves, minced
11/2 cups parsley, chopped
3/4 teaspoon whole coriander seeds, finely ground
1 teaspoon whole cumin seeds, finely ground
1/4 teaspoon ground cardamom
1 teaspoon ground turmeric
1/2 teaspoon chili flakes
1 teaspoon pepper
1 scant teaspoon salt
Zest from one lemon
Juice from 1/2 lemon
4 tablespoons olive oil
Combine absolutely everything, gently massaging the spices into the fish with your hands. Let marinate for at least 2 hours (12 is even better).
Pre-heat the broiler. Be sure to get the uppermost rack as close to the broiler as you can.
Line a large baking sheet with foil, and brush with a bit of olive oil, or spray with a cooking oil. Spread the fish bites evenly over the tray, being sure to leave space between each piece.
Place the tray of fish on the top rack and broil for 4-5 minutes. Only until the fish is slightly brown and flakey. Overcooking will absolutely ruin the entire thing.
Honestly, I was going to make a dip for this, but it really would have been overkill. A quick spritz of fresh lemon juice is nice though!
Inspired by my adored cookbook "Jerusalem".
LOVE IS IN THE OVEN
Once again, the month of Love has come and gone. (It has just occurred to me that "lovin" rhymes with "oven"!) So, in the spirit of matters of the heart, and since I happen to LOVE Chicken Parm, what better recipe to kick off our recipe page here at Sherwood Honda? If you enjoy cooking a little something special for your honey, this dish will evoke the depth of your beloved's devotion. But be forewarned, after the food is consumed, and professions of adoration exclaimed, you may be struggle to determine which comes first in your heart. Your sweetie or your dinner?

CHICKEN PARMESAN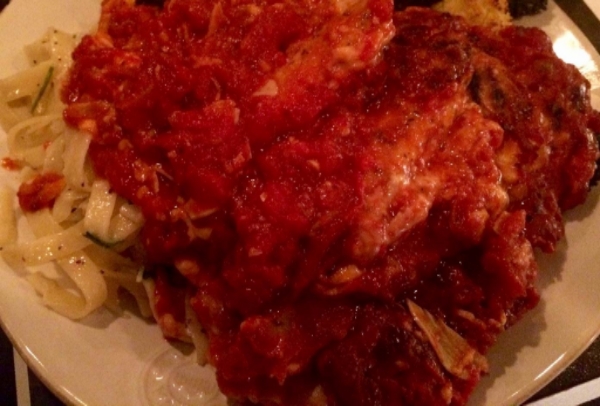 4 boneless skinless chicken breasts, pounded to ¼ inch thickness
Salt and pepper
Sprinkling of flour
1 egg, beaten
Panko breadcrumbs
4 -5 cups marinara sauce (Making your own Marinara is best and so fast! Simply sauté 4 minced garlic cloves in a little olive oil, until slightly golden. Watch that they don't burn. Toss in a pinch of red pepper flakes, 1 teaspoon of dried oregano and 2-28ounce cans of good quality tomatoes. Season with some salt and pepper. Bring to a boil and then reduce heat to a simmer. Crush the tomatoes a bit with the back of a spoon.
Simmer for about 30 minutes, until sauce has thickened slightly.)
Grated Parmigiano-Reggiano, about 1 cup
Thinly sliced mozzarella, about ½ lb
Preheat oven to 400 degrees.
Season the chicken breast liberally with salt and pepper. Sprinkle flour on chicken breasts. Use a pastry brush to coat with a thin layer of egg. Then sprinkle with panko crumbs, pressing them into the chicken with your hands or the back of a spoon. Flip chicken breasts and repeat. I use this method, rather than the usual triple dip for the following reasons: 1. Fewer dishes to clean. 2. The coating doesn't get as thick and heavy 3. Easier and less messy.
In a large sauté pan heat about ¼ cup of olive oil to medium-high. Once hot, brown the chicken breasts until they become a nice golden colour. Transfer to a plate and reserve.
Spoon a thin layer of marinara over the bottom of a 9x13-inch baking pan. Sprinkle one-third of the Parmesan over sauce. Place two of the chicken breasts over the Parmesan and top with half the mozzarella pieces. Top with half the remaining sauce, sprinkle with another third of the Parmesan, and repeat layering, ending with a final layer of sauce and Parmesan.
Place in the oven and bake for about 40 minutes, or until browned and bubbly. Let sit for about 5 minutes.
This is unbelievable served with a side of spaghettini tossed with a little sautéed garlic, grated Parmesan, butter and lemon juice. Roasted cauliflower on the side and you are set!